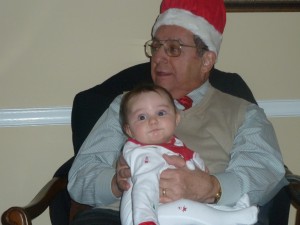 I distinctly remember the day we shared the news that we were having a baby and my Dad was going to become Grandpa Manzolillo. While we were up there on Christmas Eve, and Lori did have suspicions when Kelly was merely consuming sparkling cider, I was pretty certain my Dad didn't know.  I used a blog post on this site, manzolillo.org, to do it.  I had uploaded sonogram pics, and had both Mom and Dad online, and on gchat, so I could visually see their reaction when the page and image loaded with the news that he would (finally) become a grandfather.  It was awesome.
Kelly Ava and I miss you dad, we all do.  As the holidays approach, it's gonna be tough without you, but we will definitely be honoring your life and your love for family and good food.
Below is an excerpt and a link on how to donate to the MSKCC fund we have set up in memory of Dad.
Jim Manzolillo was a joyful and caring person. He greatly enjoyed life, music, good food and drink, and above all, his family and friends. Jim was always impressed with the facility and the staff of Memorial Sloan Kettering. He felt as if the best of the best were caring for him. In his final weeks, the doctors, nurses, and support staff of  MSKCC showed the utmost compassion to both Jim and his family. The thing that resonated most with Jim and his family was the constant sense of urgency and hope that all of the people of MSKCC exuded. They created an atmosphere that not only made you feel that Jim was receiving the best of care, but that they truly cared about him as a person. MSKCC is truly an amazing place that does everything in its power to heal the whole person.

You can donate to Memorial Sloan-Kettering Cancer Center fund we have establish in Jim's memory: http://mskcc.convio.net/site/TR?pg=fund&fr_id=1580&pxfid=17971